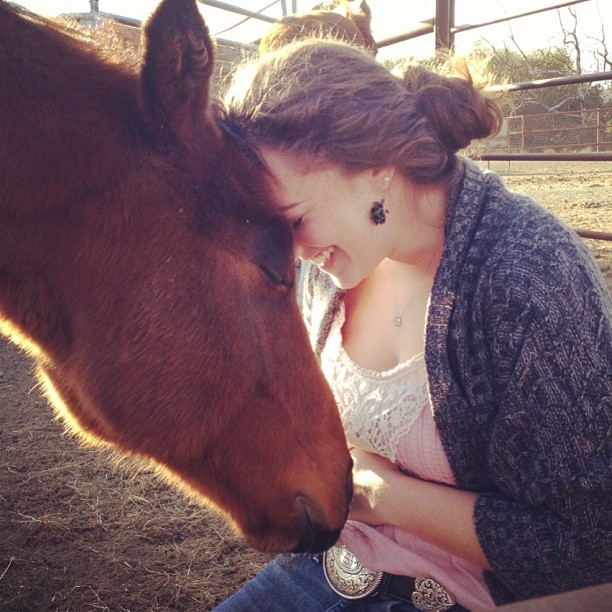 Have you ever had your world flipped upside down and thought, "Okay, now what?"
If your answer is yes, than I know exactly how you feel.
When I wake up in the morning and look at my reflection in the mirror, I see a warrior. I see a soul who is still waking up every day and fighting her fight the best way that she knows how. In these moments, I know, I haven't given up just yet, and I know that I'm never going to.
When I was 19 years old, I was working my butt off in one of the most competitive pre-vet programs college had to offer. I had been dreaming of this life since I could remember. In third grade I already knew how to outline. I was around 16 the first time I stayed up all night studying. At Cal Poly San Luis Obispo's freshman orientation, we were asked how many of us had ever studied 25-35 hours a week in high school. I think I was one of five students in the whole auditorium who raised a hand. I had a dream, and nothing was going to get in my way.
My motto was always, "I may not be the smartest or the best, but I will be the hardest worker."
That held true in the classroom, on the lacrosse and soccer field, as a friend, as club president, etc. I was captain of this and leader of that and all those pretty titles that make us feel really good about ourselves. Until none of them seemed to matter much anymore. My body started hurting when I was 19. In typical athlete fashion, I sucked it up and played through the pain. After all I had a dream to chase, right? I was doing just that, I was chasing and slowly I became the one being chased. When the pain became unbearable and the symptoms became scary, I started looking for answers and seeking medical help. My diagnosis finally came in after a year and a half of countless medical appointments, misdiagnosis, and uncertainty.
In December of 2013 I was told I had an aggressive case of Crohn's Disease.
I was so relieved to finally have a name to the pain that it took a little while for the rest of the diagnosis to settle in. Wait a minute…there's no cure for this disease? This may never go away? My immune system is attacking it's own gastrointestinal tract? IV Infusions potentially for the rest of my life to suppress my immune system? Medications? Side effects? Surgeries? Potential flare-ups whenever and wherever? Limited control over my body? Chronic pain and fatigue? What would a life with this even look like? So many questions ran through my mind. I was in so much pain. I felt lost. I felt sad. I felt heartbroken.
From the time I was born, I was the happiest kid you could imagine. I was always dancing, laughing, smiling, and having the time of my life. I had this massive amount of joy inside of me, this sunshine spirit that never faded away with age. As I grew up I had this ability to see things in the light. I am a light creator, and I try to bring the sunshine with me wherever I go.
I knew that this new lifestyle with Crohn's Disease was going to take all of the light I had in me to keep shining bright.
I was competitive, too. I was always an athlete, always trying to keep up with the boys and push a bit harder. I was a warrior. And now, I was becoming a spirit warrior, too. I was fighting a fight so deep within my soul that on the days when my body, mind, and heart, couldn't keep up, my spirit could take over and say to me,
"'Girl you freaken got this.' I'd hear my Grandpa's voice say, 'keep on keepin' on.'" and I would fight another day.
The Doctors said take it easy; I graduated from Cal Poly with a BS in Animal science, a pre-veterinary concentration, and equine science minor taking 18-20 units a quarter. My body said please slow down; my dream said, "I can't." My head was strong, but my body kept getting worse. I was in my last quarter at Cal Poly, and my battle with Crohn's looked a lot like this: double dose of IV Remicade treatment every six weeks, too many medications to count, multiple different flare-ups, a few trips to the hospital, multiple procedures, tons of testing, and always in pain… there was so much pain. I had been able to out work anyone and anything my entire life. I couldn't wrap my head around why I couldn't out work the Crohn's Disease. My whole identity was built around my work ethic and my dream of becoming a top notch equine surgeon and all of a sudden every tool I knew how to use, wasn't working for me anymore. I was losing sight of who I was, I didn't understand what was happening, I was depressed, I was confused, I was defeated, but,
I had not given up and I was never going to.
I can still remember the day I sat across a coffee shop table from my two best friends and biggest supporters, mom and dad, and told them through tears that I didn't know how I was going to make it through Vet school if I could barely hang on through Cal Poly. This wasn't just a broken leg that would heal, it was this monster disease that kept taking over and getting worse under such a stressful and demanding academic environment. I was living the nightmare of what happens when you push your already unstable health too far. I began to recognize the risks of living this way. This truth was the hardest one to face. My body was crying for help, and I knew I had to start listening.
During this crippling time in college, I discovered yoga.
I found comfort and balance on my mat. I found a deep and soothing connection to my breath through the physical poses. I became grounded and clear. I didn't know how and I didn't know why, but for some odd reason my pain hit the pause button during the time I spent on that yoga mat. On top of the relief I felt in my body, something started shifting in my heart and my mind, too. I was always a fighter and a hard worker, and now I had become an intention setter. Everything I did from that point forward had mindful and soulful meaning, truth, and purpose behind it. I learned how to feel my heart's messages. I learned how to slow down my perfectionist mind. I learned how to be kind to my body. I slowly and timidly lifted the weight of the world off of my shoulders and left it on my mat. I trained myself to allow my spirit to sit in the driver's seat for a change. I practiced how to live these pivotal messages on and off my mat.
Most importantly I learned that even when I felt like my mind, heart, and body were all working against me, my spirit reminded me that we were all on the same team and that we would get through this game together.
To me, a spirit is that gut instinct, that beautiful energy, that light, that fire, that "something bigger than me" feeling inside of all of us that believes we can overcome anything. That's when I started channeling my inner spirit warrior. When times got tough, I called on her, and learned how to have trust, faith, and patience throughout this crazy journey. I have identified myself as many things in life. A daughter, a sister, a friend, a girlfriend, a student, a manager, a captain, an athlete, a doctor in training, a veterinary assistant, thoroughbred sales prep, an artist, a writer, a college graduate, a life coach, a preschool teacher, a yoga alliance certified RYT-200 yoga teacher... the list could go on and on. Today, my three most important identities sound more like this:
"Spirit Warrior. Intention Setter. Light Creator."
No matter what I do, this is who I am. It will not change if my career changes. It will not change if people come and go from my life. It will not change if my dreams take new paths or new challenges arise. It will not change if my health throws more battles my way. Titles and temporary identities come and go, but who I truly am shall remain unbroken and forever maintained. Healthy or unhealthy, veterinarian or yoga teacher, I will always be a spirit warrior, an intention setter, and a light creator. You can be them, too.
It was through yoga that I found true freedom-- Freedom IN my pain.
There was a time when I thought freedom meant a cure, meant perfection, meant nothing could go wrong. You go through enough flare-ups and failures in life to realize freedom is not perfection; freedom does not equal pain free. Are you wondering, what I mean by, "Freedom IN my pain?" Allow me to share. It's moments when I am in pain, and I remain connected to my inner spirit warrior. It's moments when I am in pain and I still show up in the world as a light creator. It's moments when I am in pain and still choose to live as an intention setter every damn day of my life. THIS is living in freedom with my pain.
YOU can find freedom in your pain, too.
Are you willing, my loves? It's time to change the old stories, and welcome the new one:
"It's not about living a pain free life, it's about living in freedom with your pain."
What kind of freedom are you seeking? If you're ready to live in freedom with your pain, than join this Kekoa yoga family right now.